Mavin Records 2017 Audition for upcoming artist that which to join the smd label - Lagos
Wednesday, 22 November 2017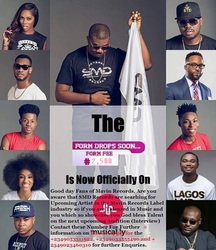 Item details
City:
Lagos » Lagos Island
Contacts

Mavin Records Label

09053311922
Item description
Public Announcement from Mavin Records Label
Happy AMBER Month To all Fans of Mavin Records
TALENT HUNT MUSIC AUDITION 2017
TITLE: OLUWA NI
Good Day Distinguish Ladies and Gentlemen
Greetings to you from the Supreme Mavin Dynasty (SMD
Are You Aware That SMD Records Are Searching For Young Talented Upcoming Artist to be Signed into MAVIN RECORDS LABEL
These are the following below
1. Singing
2. Dancing
3. Modeling
4. Script Writing
5. Fashion Designer (Tailoring
6. DJ
7. Stylist
8. Cosmetologist (Makeup Artist
9. Rapping
10. Photographer
11. Web Designer etc
If You Are Been Blessed with any of the Talent Above contact the number below
Here is your opportunity of becoming a STAR By Showcasing your God Bless Talent on the next Upcoming Interview For Further useful Information on how to apply Contact these Numbers below
Contact Number:
234-905-3311-922
A. For any of the Following
1. Marketing
2. Production
3. Audio and Video
4. Invitation to Play in any of the following:
Marriage Ceremony
Get together Party (etc) Contact The Numbers below
B. If you which to sell Any Produced or Non Produced Track be it
1. Video
2. Audio
3. Written Songs to Sell
also contact the Number Below
Contact Number:
234 905-3311-922
MAIL ADDRESS:
mavinrecords.blogspot@gmail.com
This is your opportunity for being signed into the Supreme Mavin Dynasty (SMD RECORDSMAVIN RECORDS
NOTE:
The Feeding, Accommodation and Transportation will be taking care by Michael Collins Ajereh, better known as Don Jazzy CEO MAVIN RECORDS
Mavin Records.